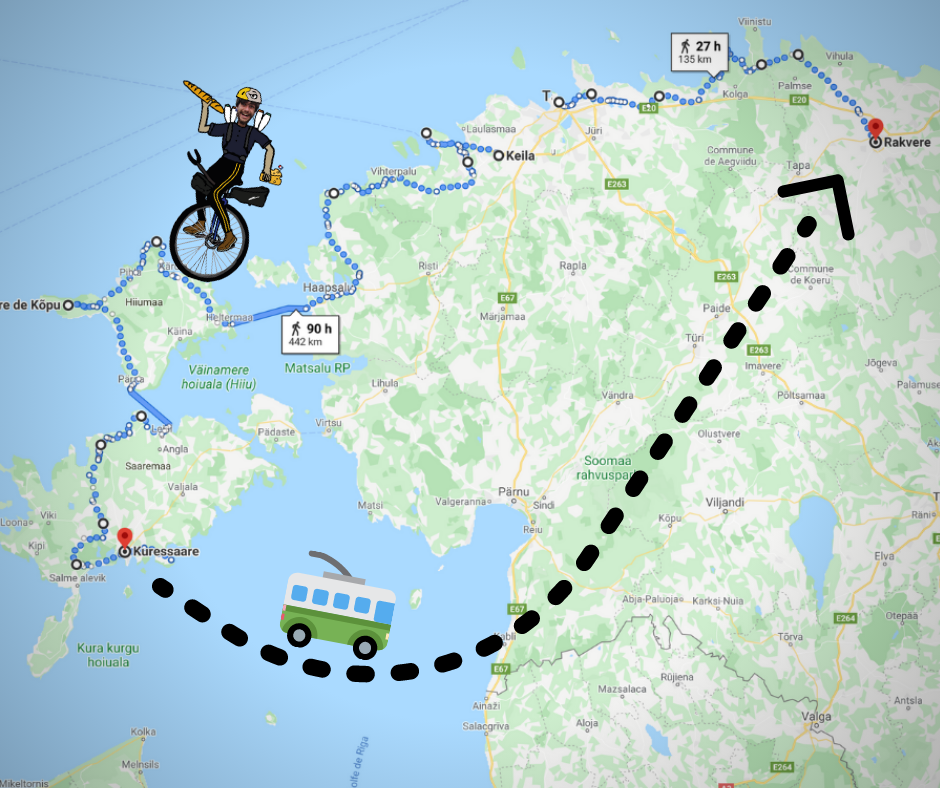 ***** 🔥ridding 1000 km around Estonia during summer 2020 !🔥 *****
I'm a street performer for many years. When the all Covid started 😷, I've been wondering for months what can I do in this context 🤷‍♂️. I quickly understood that making big shows 🎪 won't be possible this year. Being a street performer is my true deep call for life and it was very hard to think a summer without creating 👨‍👨‍👧‍👦👨‍👩‍👧‍👦 big crowd 👫👨‍👩‍👧‍👦 smiling people. 🤣😀
So I ask myself : "what excite the Hell out of me ?"
– Juggling 🤹‍♀️
– Ridding unicycle 🚵‍♂️
– Being in the nature 🏕 🇪🇪🌲🌳🌲🇪🇪🇱🇹🇱🇻
– Video Editing on youtube 🎥 (Not subs yet ?)
– Spend time with great friends 🧔👨‍🌾👨‍🎤🧝‍♀️
And I found my answer :
I am going on a UNICYCLE ROAD TRIP around Estonia during this summer. It is gonna be 😎GREAT😀 , it is going to be 💥EPIC💥, and I will have ⭐️FUN⭐️ !
How can I do to support the project ?
– You can give me a donation
– I'm selling some Jam pot made with love in Tallinn.
– I have an amazing show for corporate and big event. You can check the promo video. And send me an email at booking@sypocircus.com for inquirery.
– And the most important, you can follow me on my youtube channel and share the video with your friends. This always mean so much for me to see that people enjoy what I'm doing. And this is and will always be my greatest motivation to keep going with it.
In any way you choose to do it. Thanks for your support !